Most people have a fairly good idea about what the price for a square meter of a house or apartment is going to be, and how much will they need to spend for interior furnishings and equipment. But when it comes to gardens, the expectations tend to disagree with the reality by a fairly wide margin. In this post, I would like to touch a few points to help you start thinking about estimates for your project.
What is your limit?
As a garden designer, I like to talk about favourite plants, light, mood, or inspirational landscapes. Yet, one of the most important questions that I have to ask a potential client is "How much are you ready to spend on your garden?" It is a tough one, because we generally don't feel comfortable talking about money. However, it is very important to find that sweet spot between a wish to save and a wish to upgrade, because your financial limit has a huge impact on what can be done, and thus which style and mood are within your reach. So let's have a closer look at a few factors that generate this cost.
Garden is a construction project
We easily forget about parts hidden from our eyes. However, foundations for walls reach 80 cm below the ground and are 3 times as wide as the wall itself. That makes up for a lot of concrete. A third of pergola or fence post is buried in the ground or rests on solid concrete foundation. There is at least 30 cm of stone and concrete below any paved surface, which again makes cubic meters of material to be hauled in and installed. Water features need underground water reservoirs. Paved areas often require technically advanced storm water management systems (surface drainage), so they don't flood in heavy rain. Therefore, the price of surface materials which you may consider, though significant, is only a tip of an iceberg of the entirety of necessary supplies.
"There is no IKEA garden"

Charlotte Rowe, Garden Designer
Sun, wind, rain, snow, dry weather, wet weather, 40° C, -20° C. Garden structures have to withstand whatever nature throws at them 365 days a year—and last. Moreover, they don't enjoy central heating and protection that our house walls do. Therefore, materials and workmanship have to be of superior quality than those used for house construction.

Disposing of the rubble
The flip side of all the construction that I mentioned above is a pile of excavated soil. Whoever worked in the garden knows that dug out soil multiplies its volume by a factor of two to three. It is usually possible to sculpture the land to use excavated soil on site in a large garden. However, it might not be possible to accommodate the spoil in a small garden, so it has to be taken away. Similarly, demolition of any existing hardscape yields a lot of rubble, which must be disposed of, all at a hefty price. Not to mention replacing soil if construction rubble had been left underground by house builders, or if the soil is contaminated.
The garden is build by people
Making a garden means constructing a garden, usually by a team of several landscapers over several weeks. The building industry still relies on manual work and judgement of experienced professionals. You want that the team that builds your garden do the job well, which means they ideally belong to the GaLaBau association. Furthermore, technically challenging situations, for example steep slopes, will require input from a structural engineer. If there are old trees on the property, they may need an evaluation by a certified arboriculturalist. These are just a few examples of a broad range of possibilities. Finally, depending on the scope of the works, construction might require specialised machinery, which also have their hourly rates.
Small gardens are the most expensive per square meter
For a couple of reasons. First, the ratio of expensive construction to less costly planting and lawn areas is much greater in a small garden than in a large countryside estate. Second, in a small garden everything is in view all year round. That is why the quality of details and materials is crucial. The same goes for furniture and structures. While an off-the-shelf tool shed looks perfectly reasonable in a remote corner of a country garden, the same shed will look cheap and misplaced in a small town garden, right across the living room window. Moreover, a city environment imposes to some extent the choice of style. For example, a rustical design, which tends to be gentler on the pocket, is rarely appropriate in urban surroundings.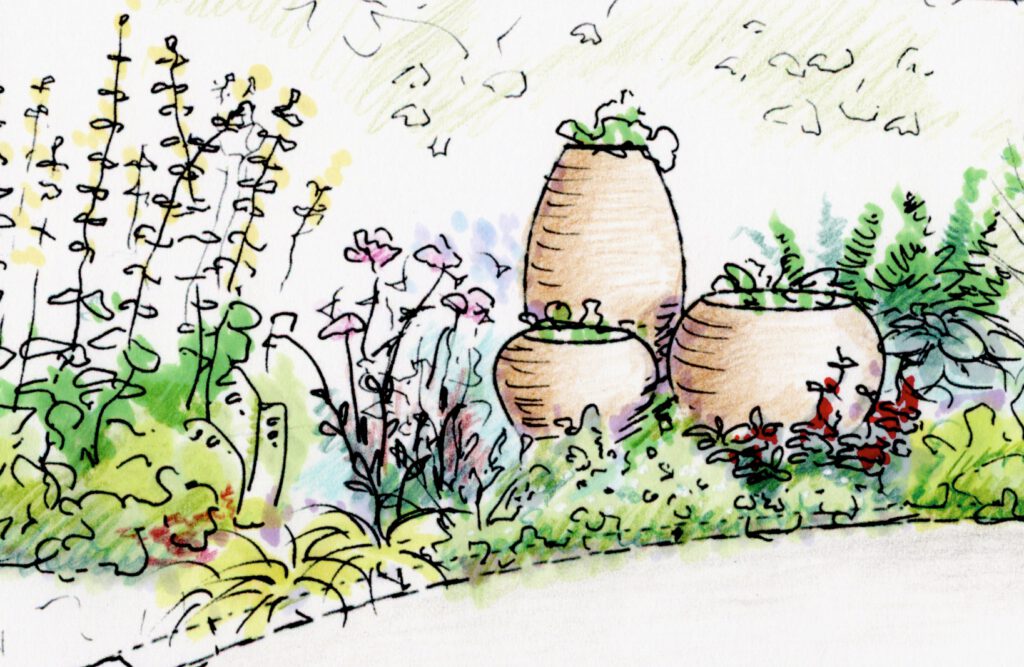 Planting
For many people plants are the fabric of the garden, so you may not need expensive construction to enjoy your space. Certainly, individual plants have very moderate prices compared to building materials. However, it doesn't mean their cost is non significant. Let's start the estimation for a border with perennial plants supplied in small 9 cm pots, with average planting density of 7 plants per square meter at 5 € each and we arrive at 35 € per m2. Add mulch, and possibly drip irrigation. Then add a few shrubs, or a hedge, and some bulbs. It would be very difficult to go below 50 € per square meter. Trees that are anything more than a whip will start around 200 €. A specimen tree, or a specially pruned garden bonsai may be a 5-digit figure.
The bottom line
Whereas I am not able to give you exact figures, because it depends on a lot of factors, a square meter of a garden might start at 50 € on a very tight budget to several hundreds for a sleek, stylish city outdoor room with extensive makeup and mature plants. To help you draft a realistic budget, I would encourage you to note the answers to the following questions:
How much did you spend on your kitchen?
What was the price of your car?
How much is 10 % value of your property?
These answers may serve as a pragmatic guidance to estimate the cost of your future garden. And the final question which I would like to ask:
Would your limit change if you considered your garden not only for your own pleasure, but also as an investment increasing the value of your property?
If you would like to discuss your project or had more specific questions, don't hesitate to get in touch.