The design for this one hectare garden in the Oxfordshire countryside creates a series of entertaining spaces connected by flowing lines of hedges and mown paths. Large beds planted with drought-tolerant flowers and ornamental grasses offer exciting views throughout a year and a refugee for wildlife. The property is located at the edge of a town with views towards gentle hills of agricultural land on two sides. Large back garden on the slope has a 5 m level change from the south to north boundary. Except for the tennis court and mature trees along the boundary, the garden was just a lawn.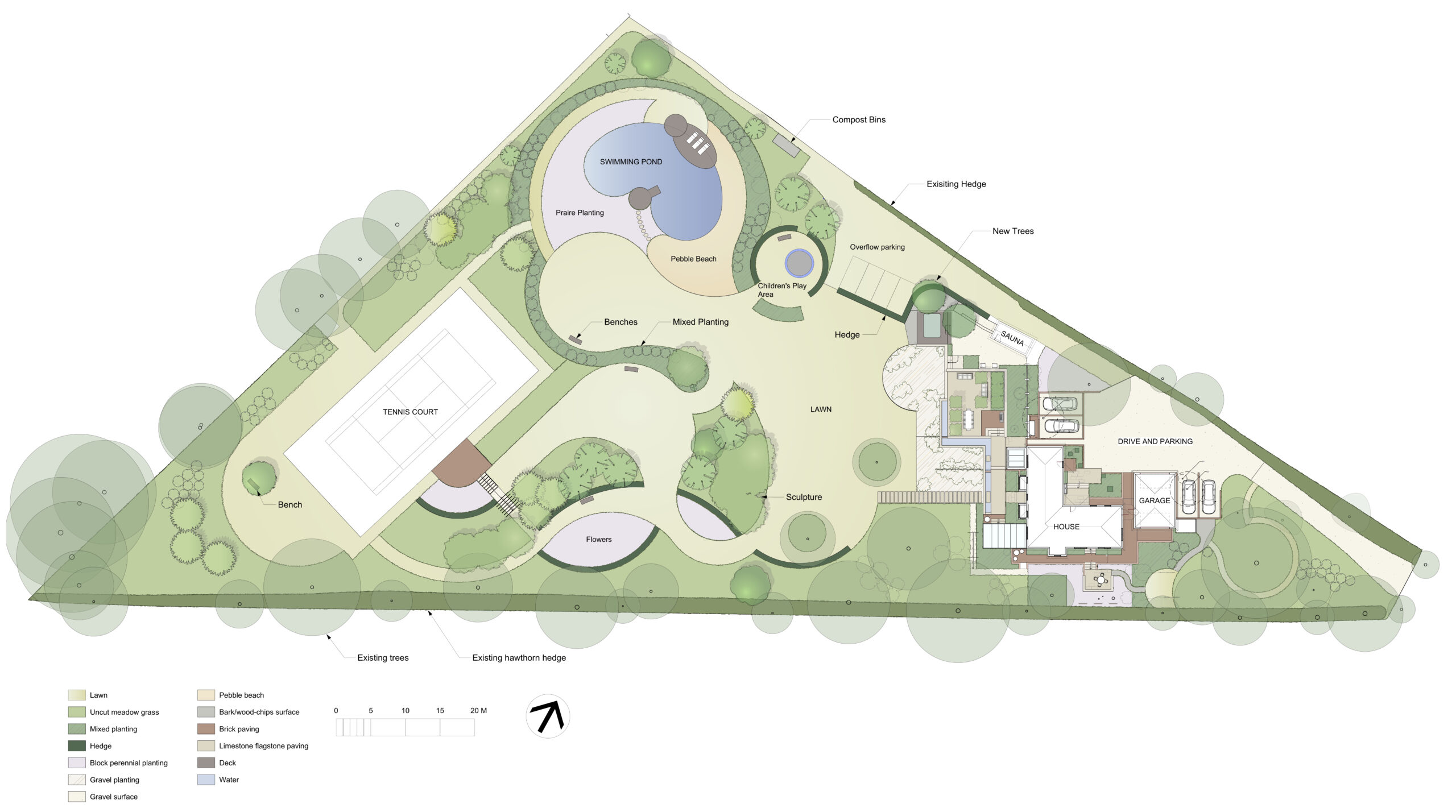 Entertaining whole year round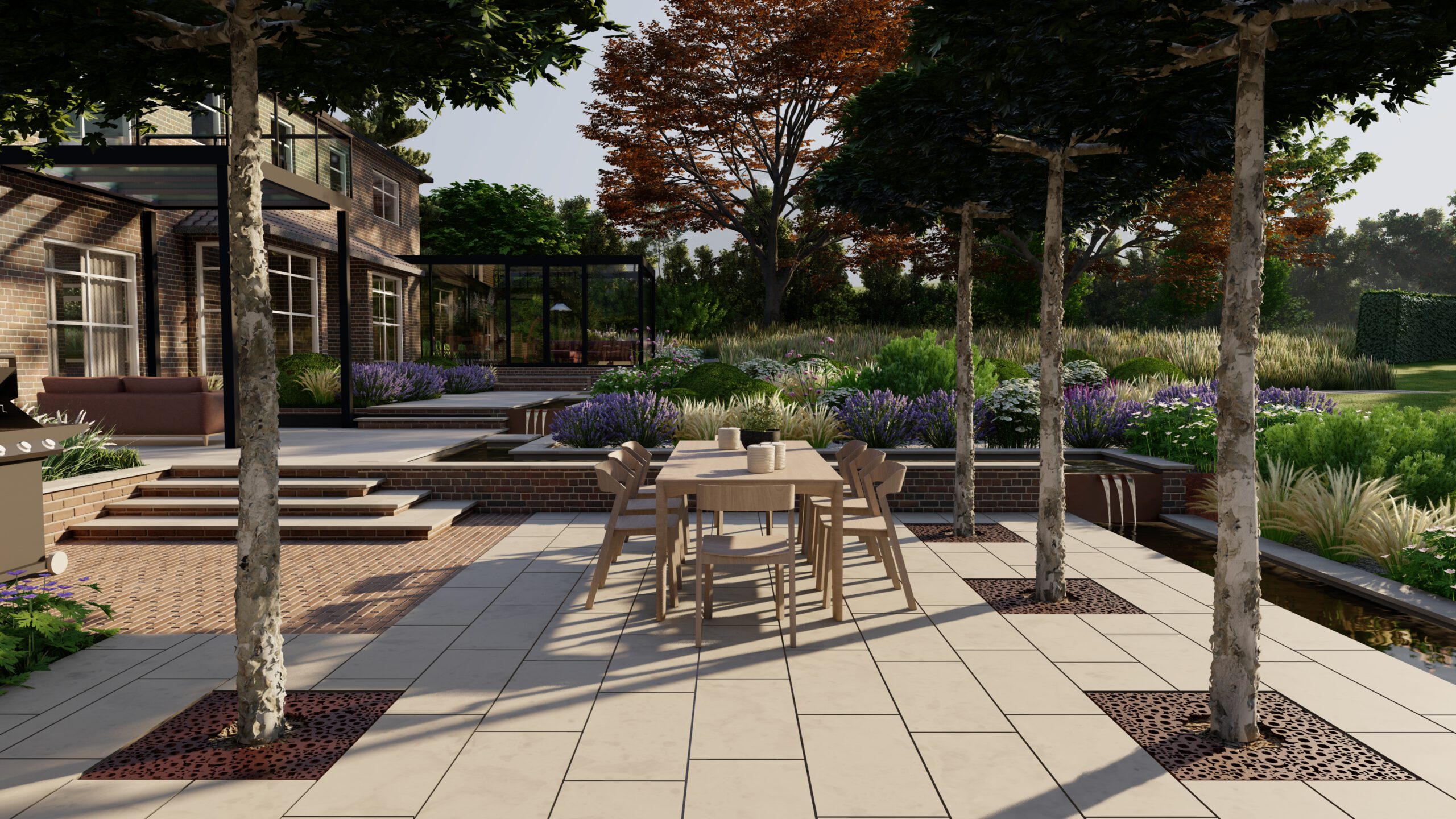 A large terrace, shaded by umbrella-pleached field maples was placed down the garden near an existing sauna house and a spa tub – a centre of entertainment for the owners and their guests throughout the year. A cascading formal water feature links the house with terraces and masks noise from a nearby road. Placing large paved areas away from the house prevents accumulation of heat near the building in the summer. Also, the views from the house and conservatory across the garden are not obstructed by furniture. The terrace is enveloped by a gravel garden levelled with help of low Corten-steel retaining walls. The spa had been surrounded by a new deck that doubles as an informal sitting.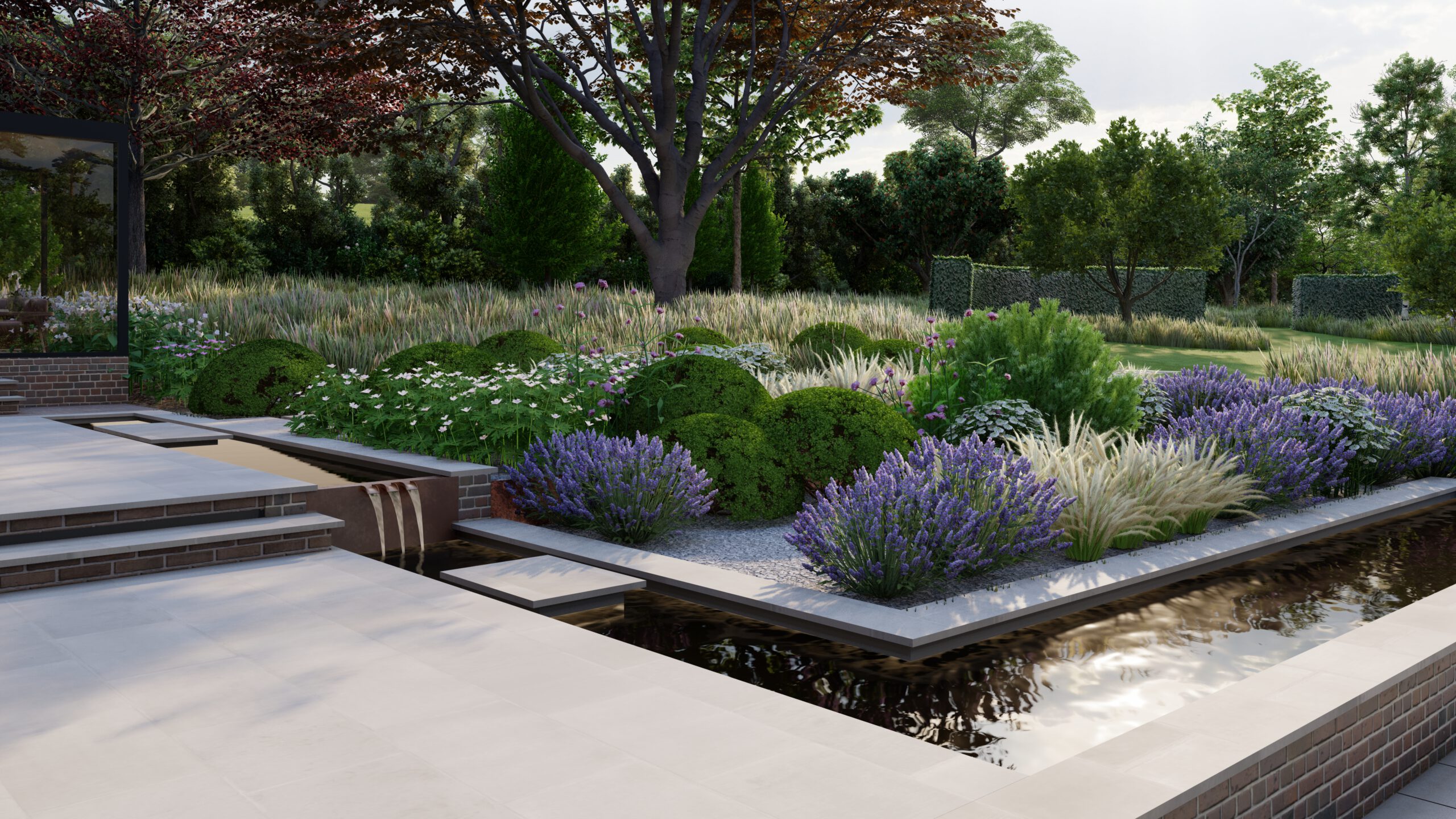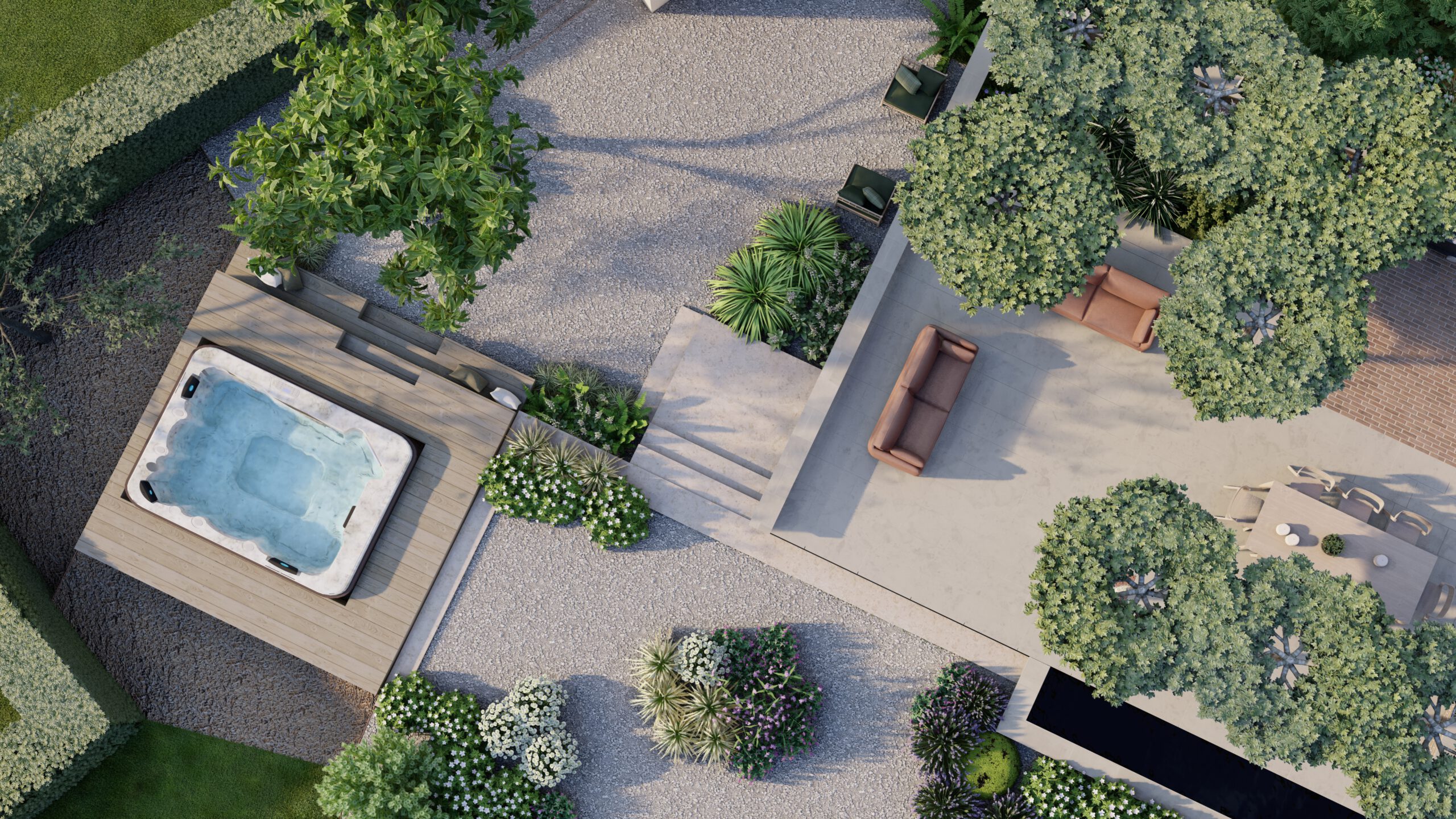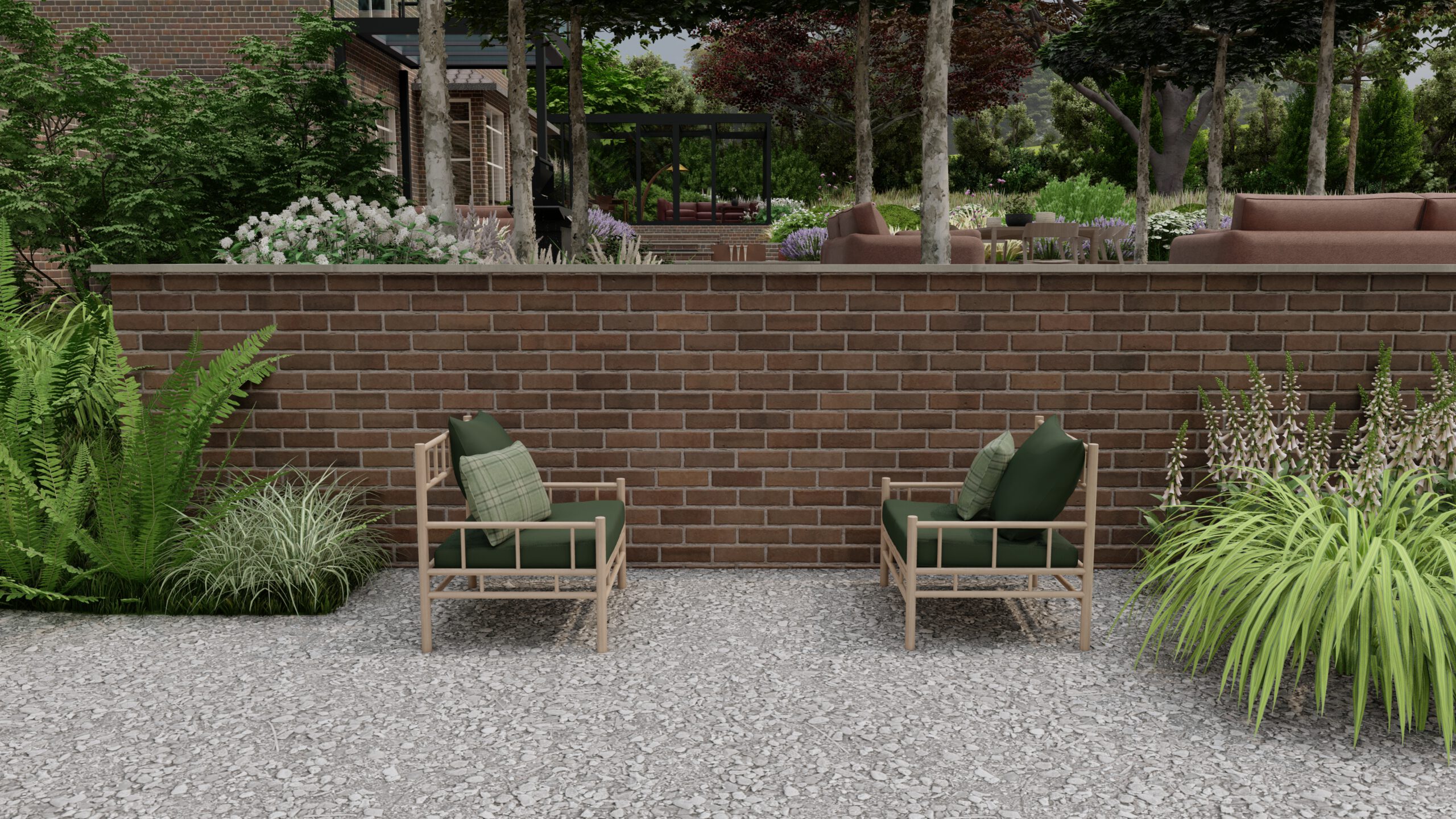 The design is formal and geometric near the house to match the simple architecture of the contemporary brick house and new developments: a modern conservatory and a balcony. Away from the buildings, the design takes on natural, soft lines. The project incorporated a natural swimming pond at the lowest corner of the garden. The excavated soil had been used to create low hillocks planted with drought-resistant himalayan birches and black pines, which conceal the tennis court. Large parts of the lawn were replaced with an uncut meadow grass, through which mown paths meander and reveal different views and pockets of colourful perennials. Fragrant roses and shrubs delight the senses from spring to autumn. Winter months are enlivened by a hundred of dogwood shrubs with fiery bark colours, stands of tall ornamental grasses, and somber evergreen viburnums, wich also screen the private spaces from the public path running across the southern boundary. Tausands of crocuses, narcissi, and tulips announce the arrival of spring.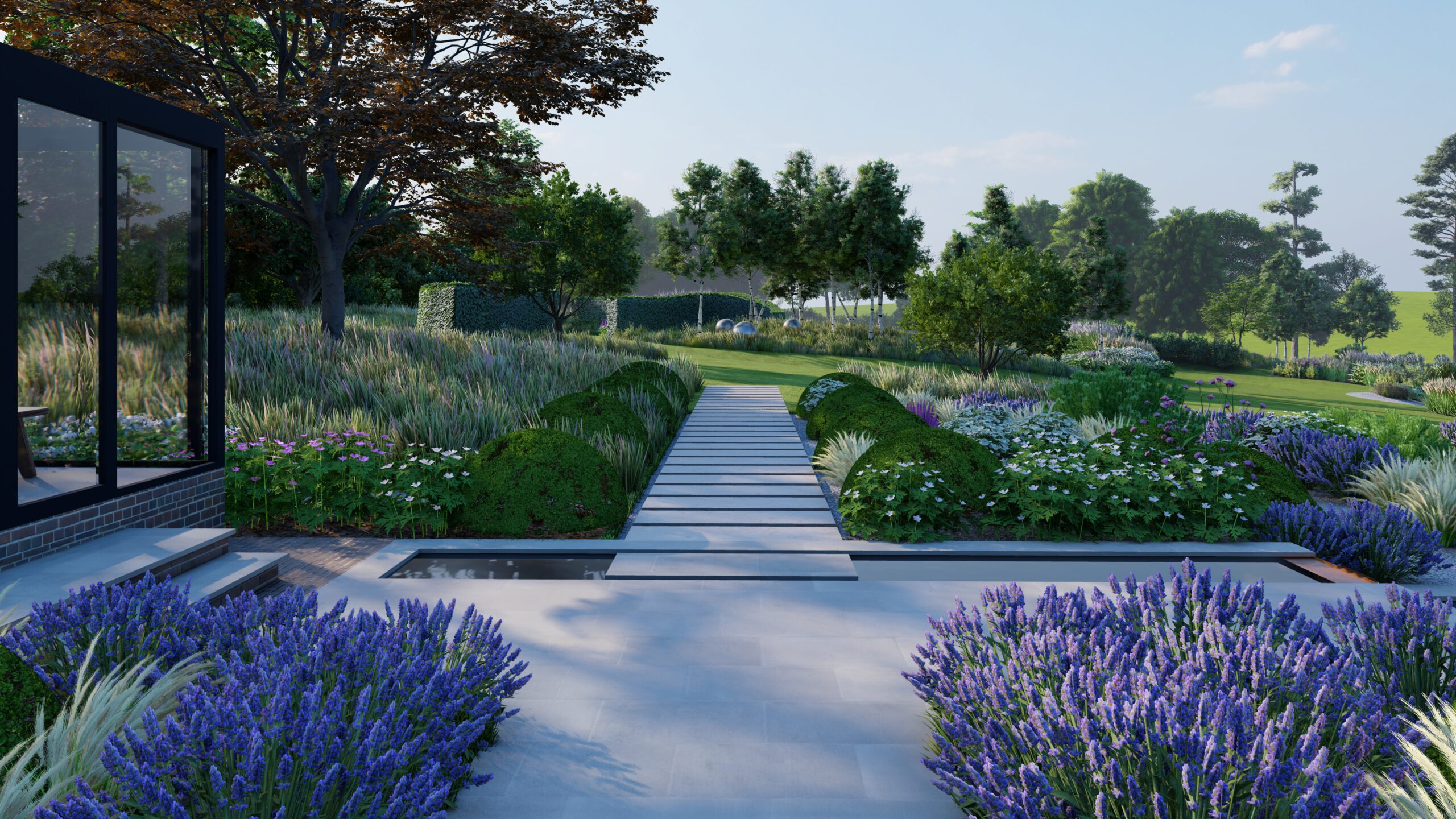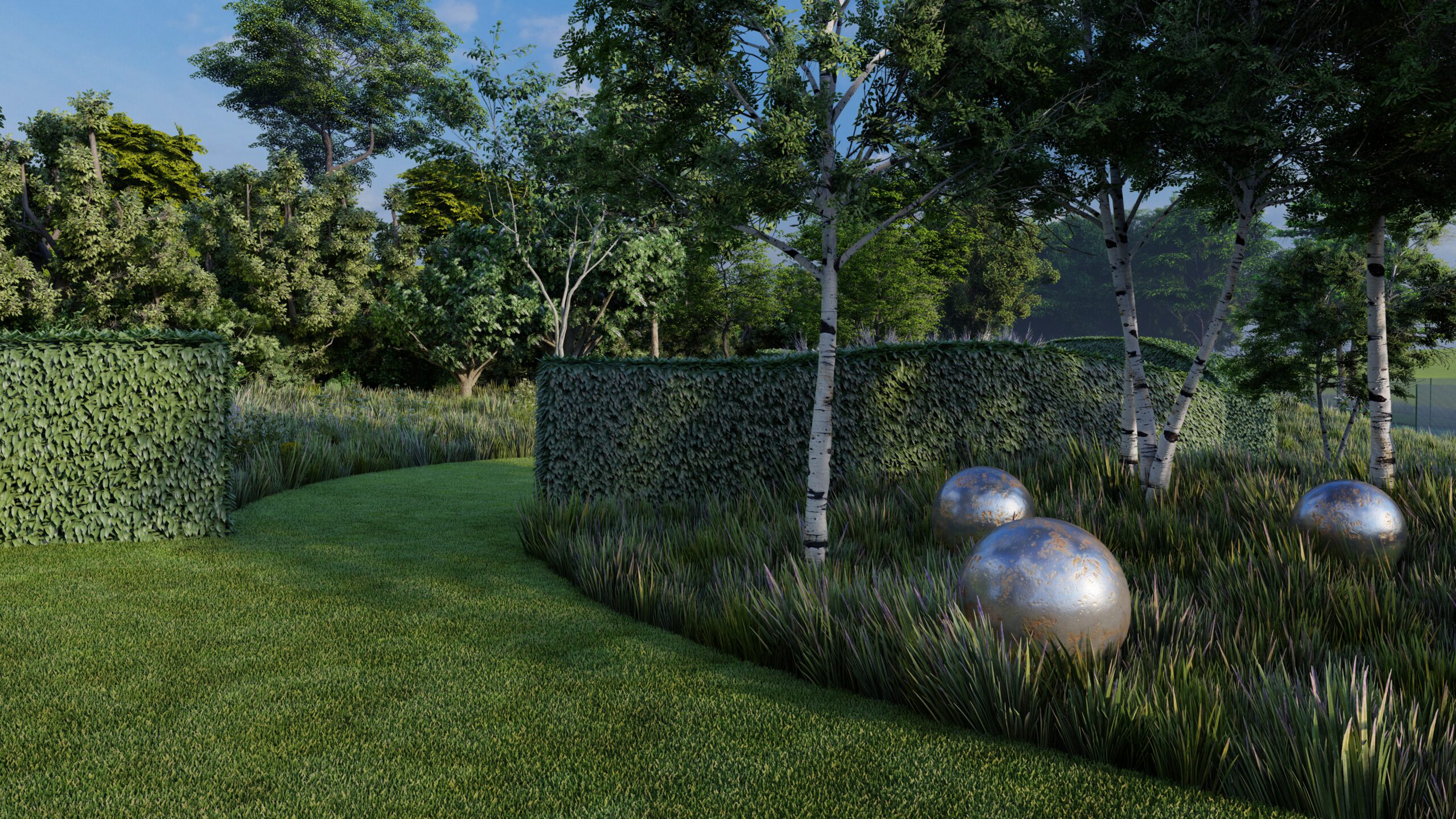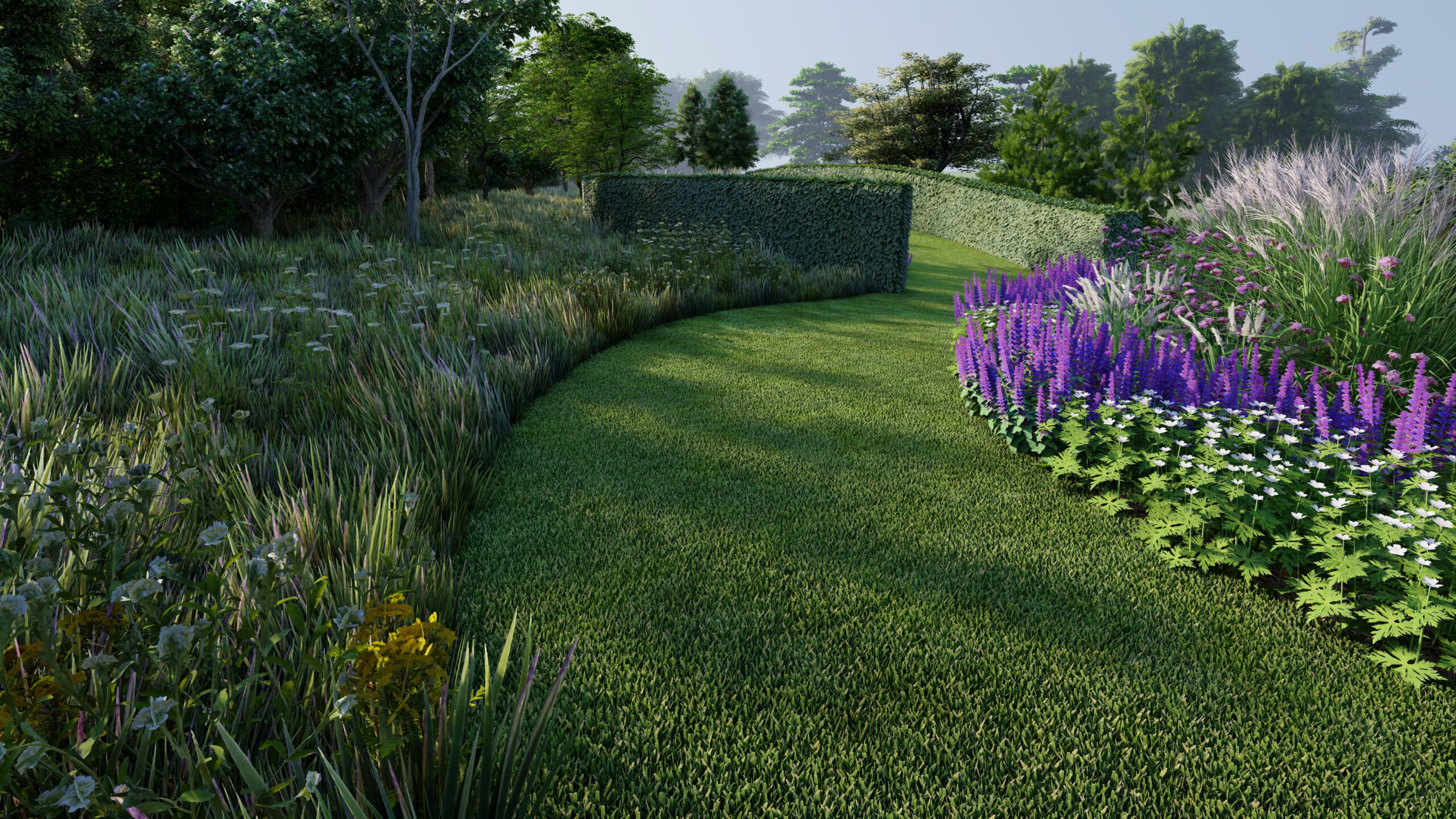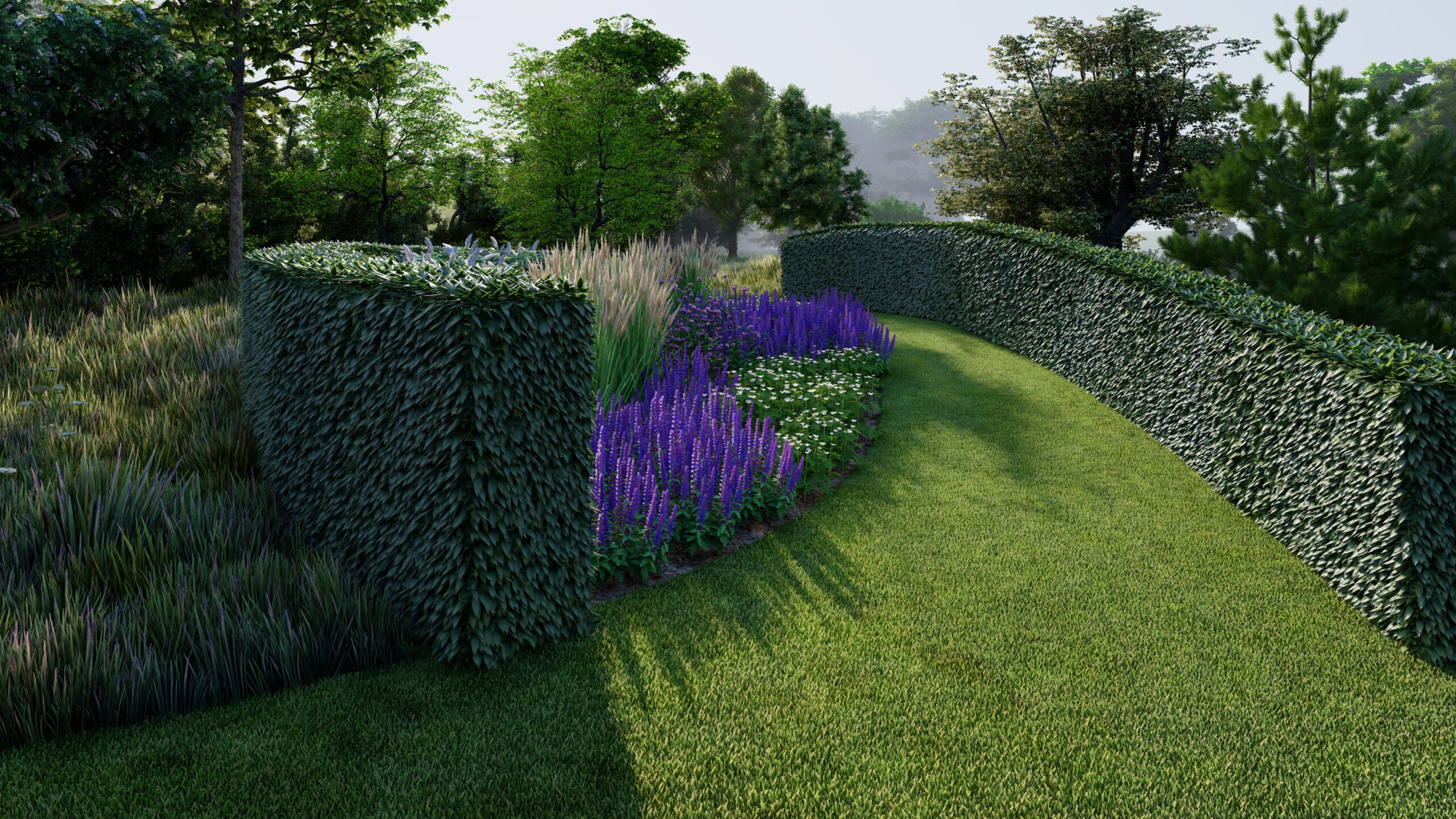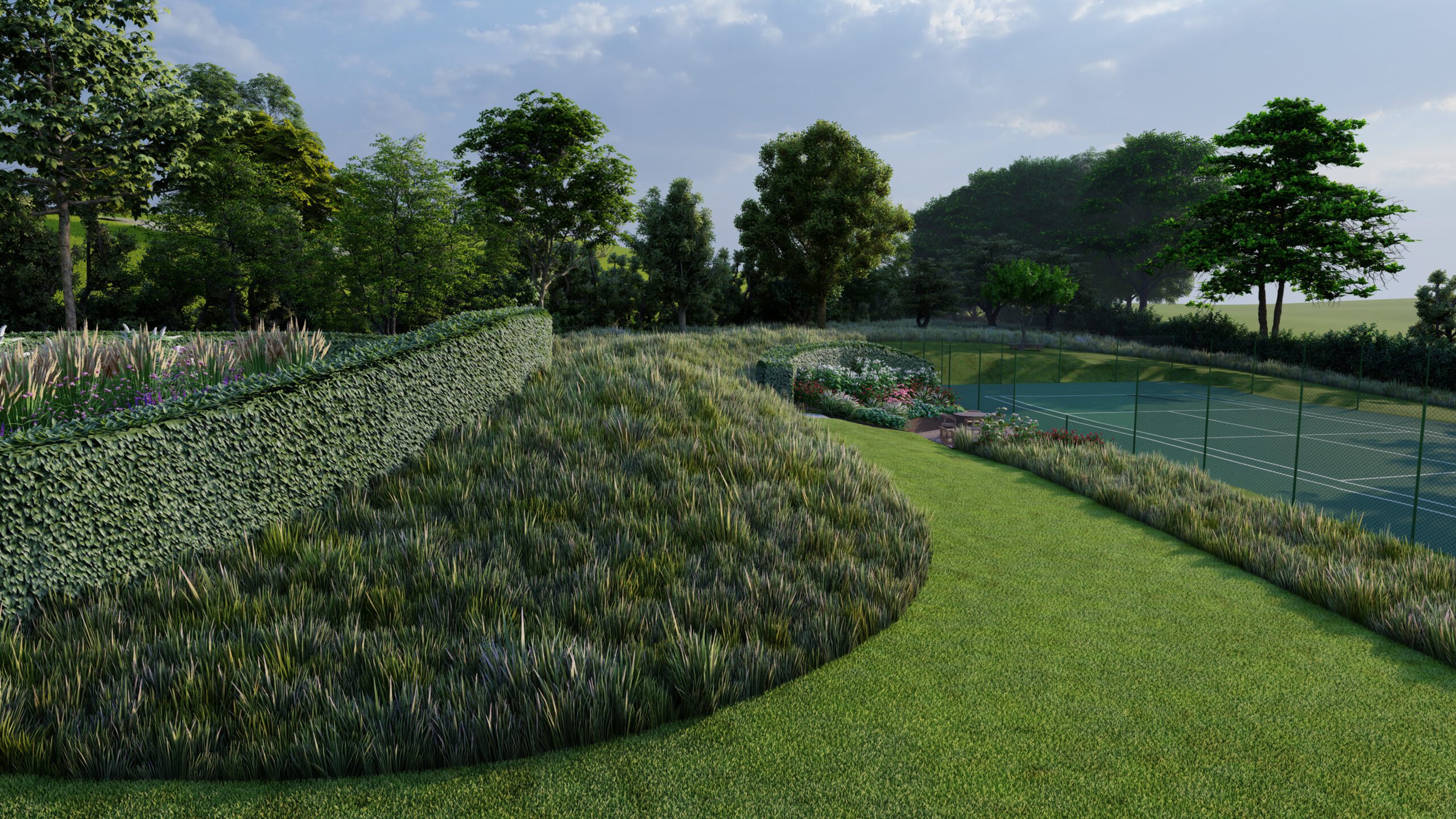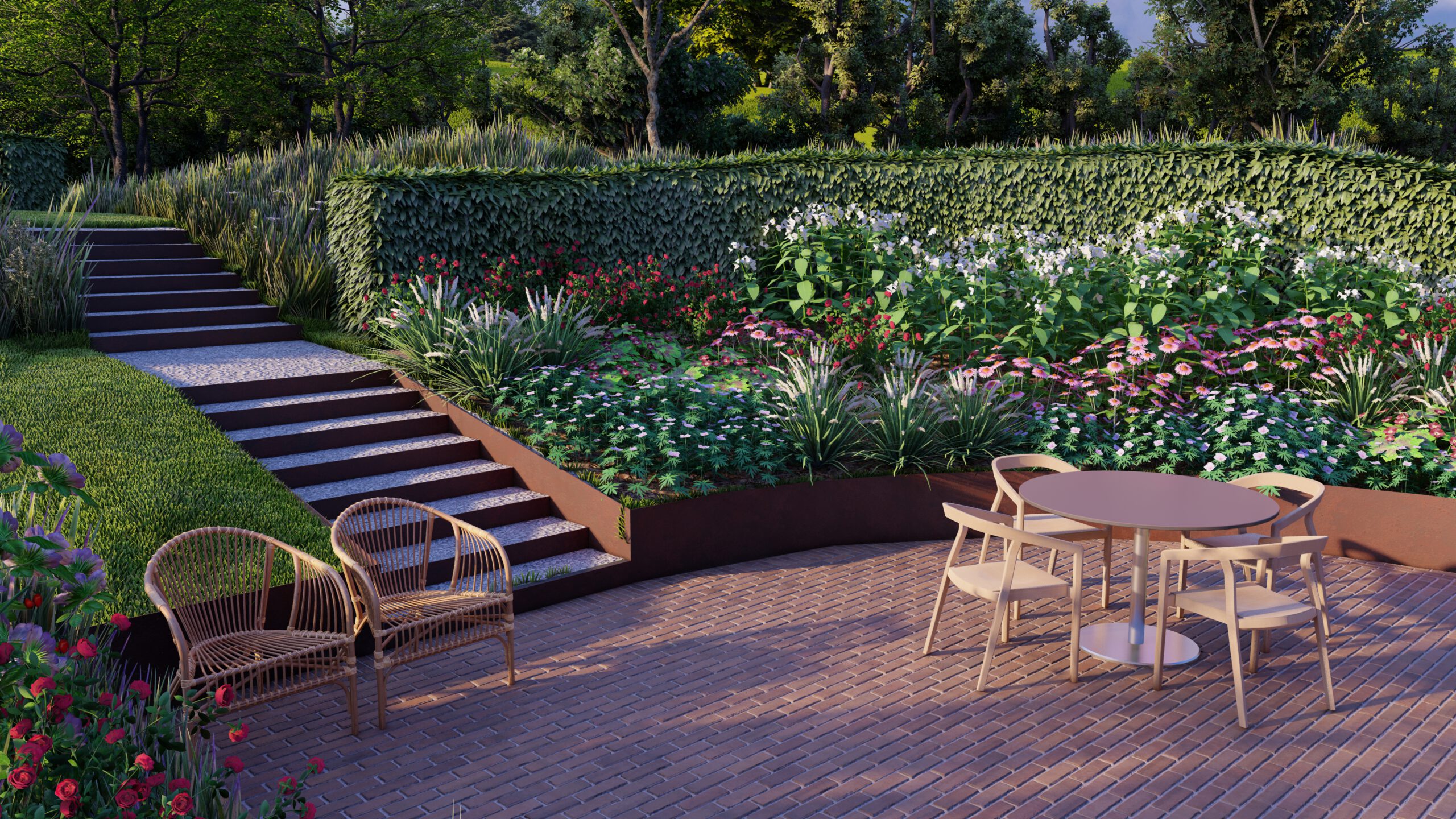 Near the kitchen side entrance, I added a small dining terrace, immersed in lush vegetation in green and white. The laser-cut custom Corten-steel panels repeat the pattern of tree grilles set in the main terrace. They were chosen to ensure privacy in colder months when the hawthorn hedge that grows along the boundary is out of leaf. This way we could preserve the hedgerow, which is an important wildlife spot, instead of replacing it with an evergreen hedge, while keeping owners feeling safe and enclosed.