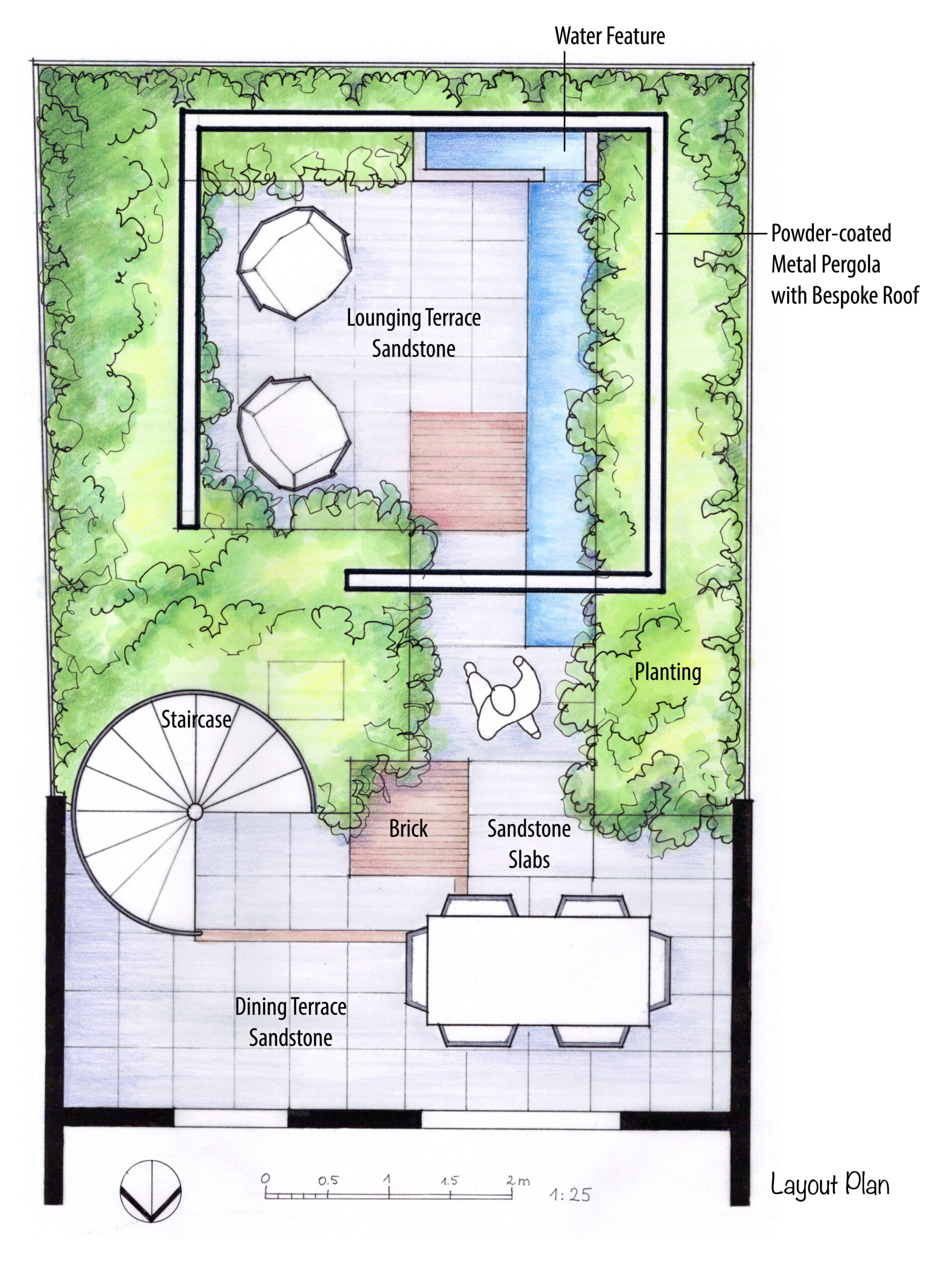 Small gardens are particularly challenging to design because every centimetre has to be put to good use, but at the same time it is crucial not to clutter the space and leave enough room for lively planting. The detailing and finish have to be meticulous to fit the urban scene and blend with interiors.
This tiny south-facing courtyard garden of a two-storey terrace house measures only 50 sq. m. The clients requested a direct link from a small balcony on the first floor to the garden, a sheltered dining area, and an evening lounging space screened for privacy from neighbouring houses.
read more
The balcony was fitted with a spiral staircase, and extended across the entire width of the house to provide space for sunbathing. At the same time, it serves as a roof above a dining terrace below. The main feature of the garden is an asymmetric bespoke powder-coated metal pergola with a filigree roof of honeycomb pattern with insets of coloured glass. The structure isolates the lounging terrace from neighbours, yet allows sunlight and interesting shade patterns into the garden. A raised water feature at the back of the garden flows with a soothing sound into a rill along the path, inviting into the garden and to the lounging area. Sandstone paving is interspaced with brick insets, which link the garden materials to the brick on the façade. Moroso line of lounging and dining chairs in black and rainbow colours add finishing touches of luxury and fun.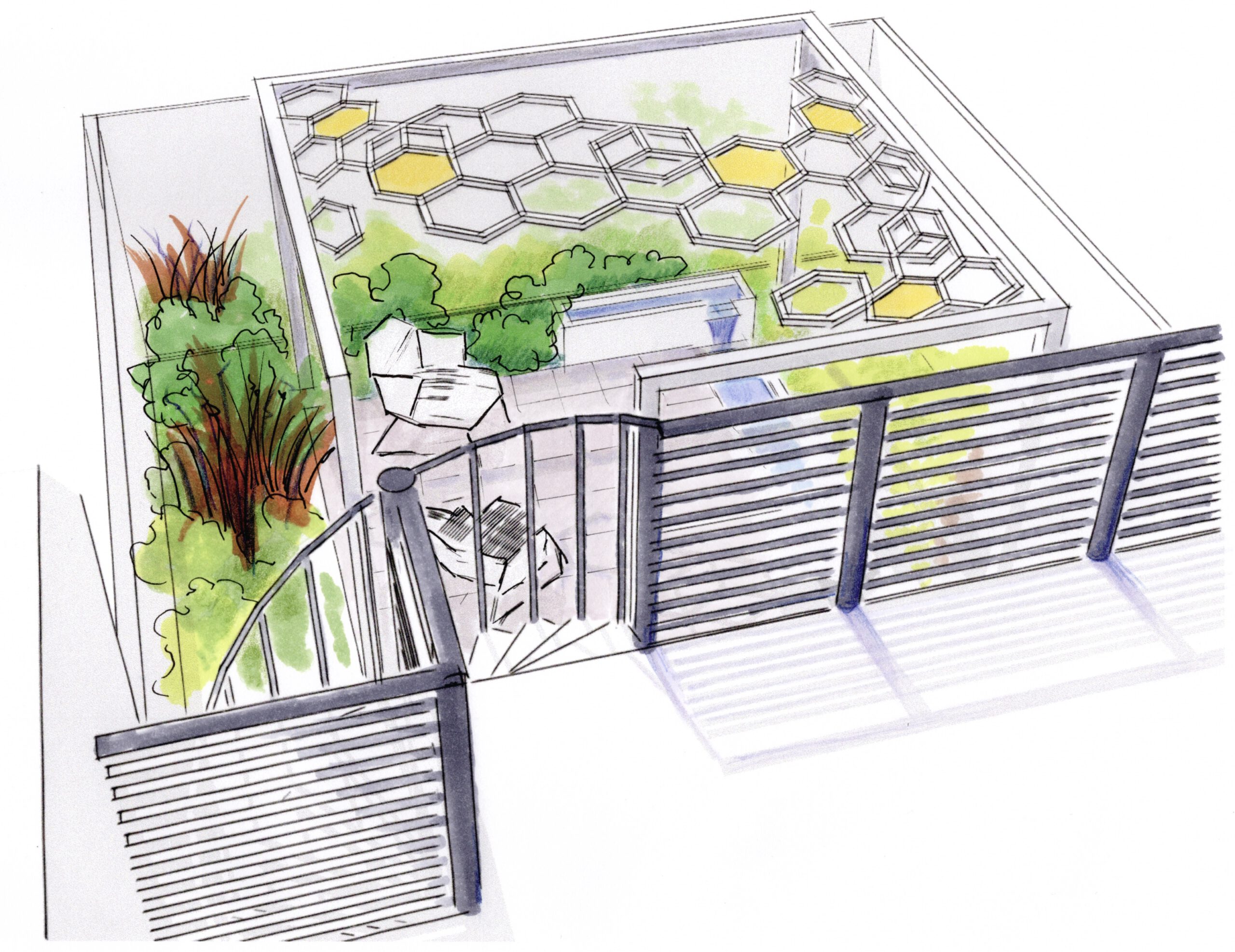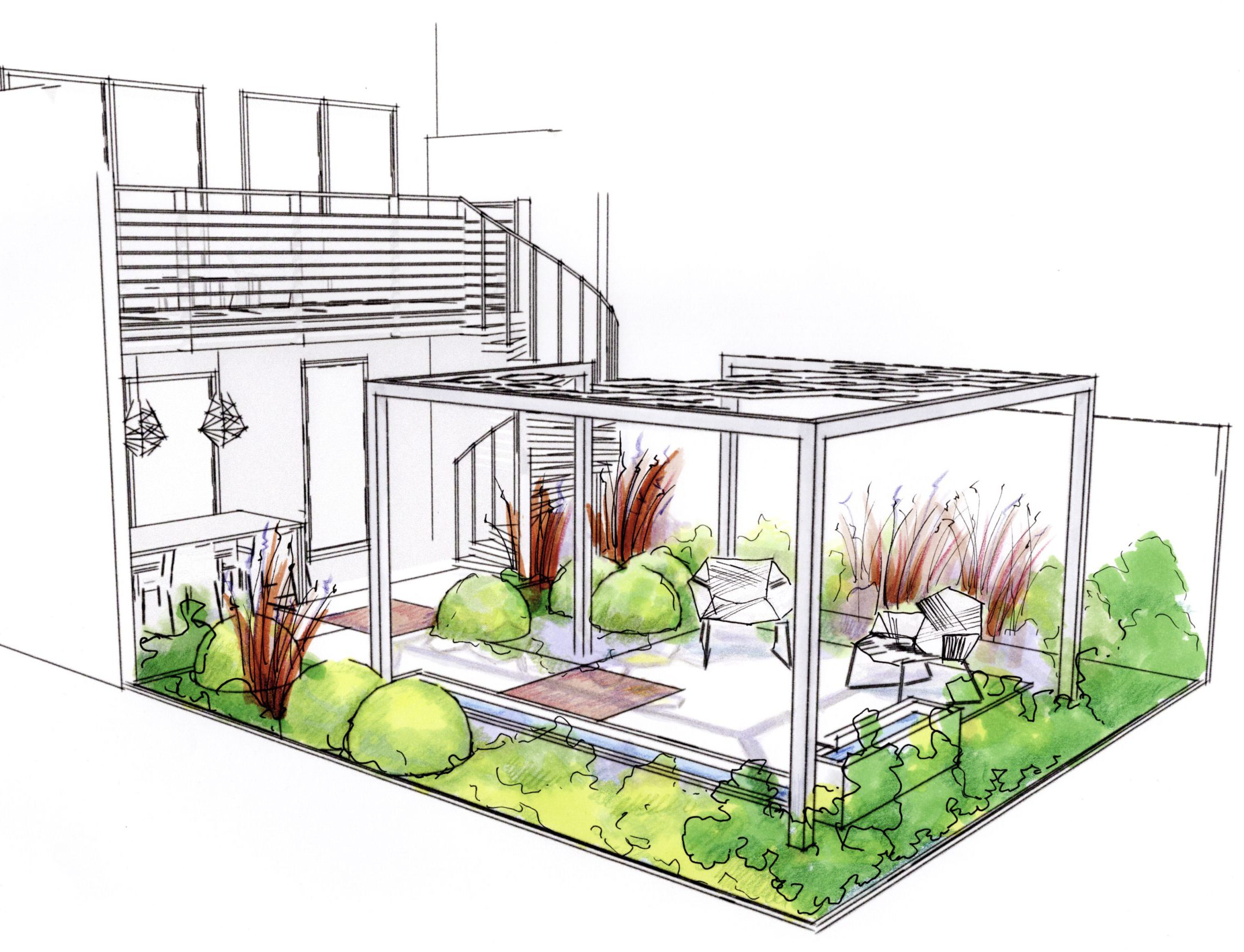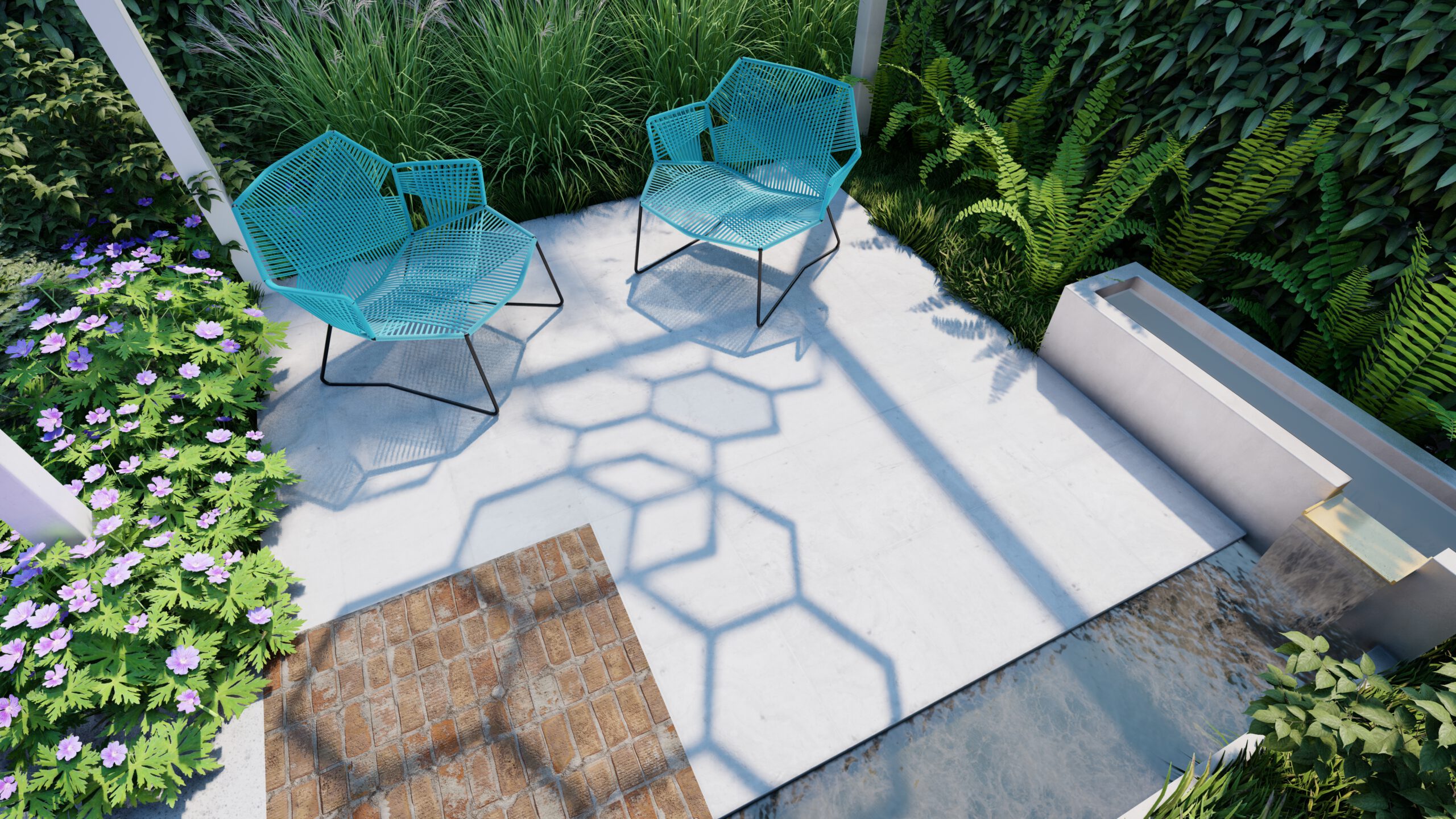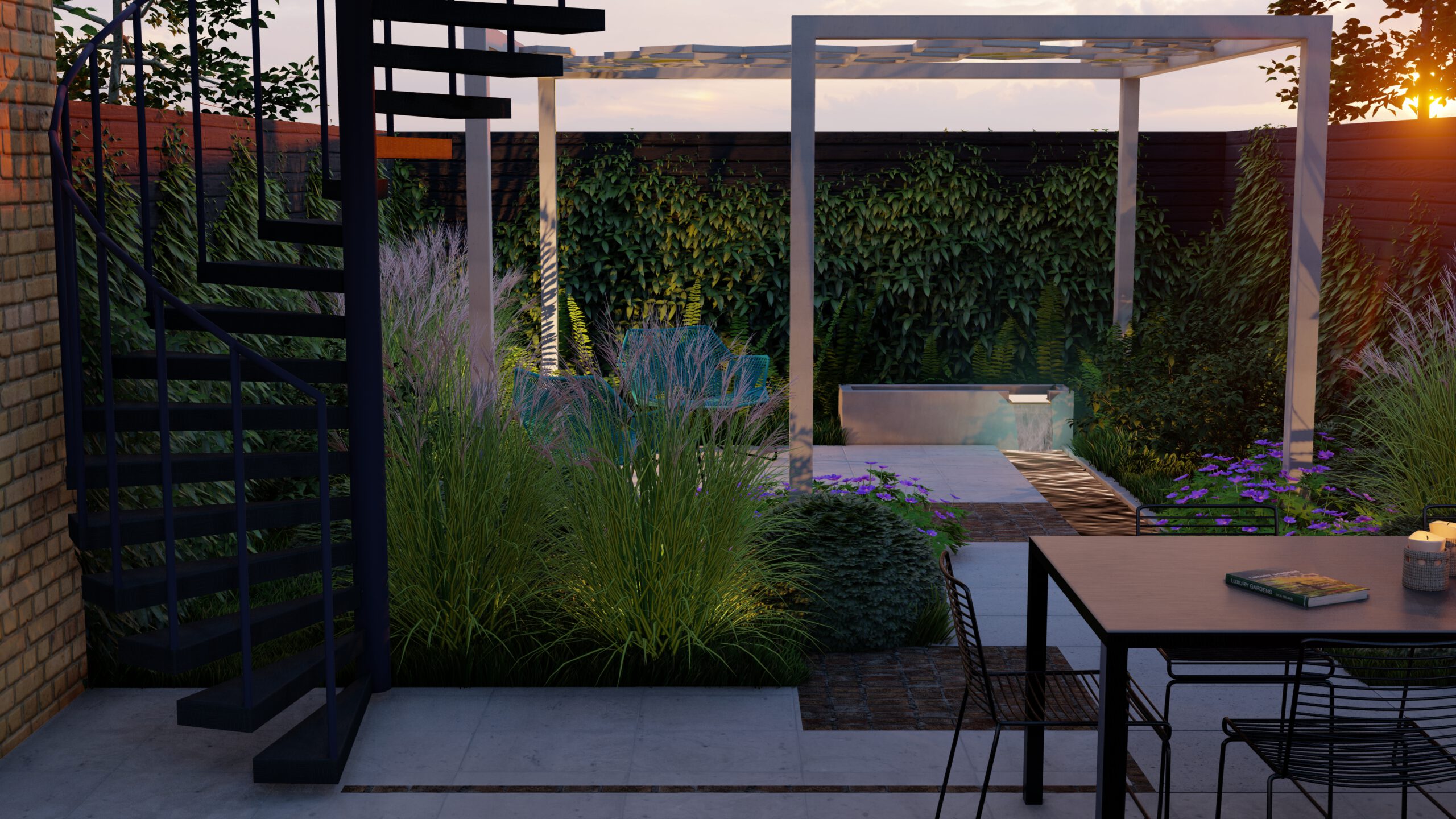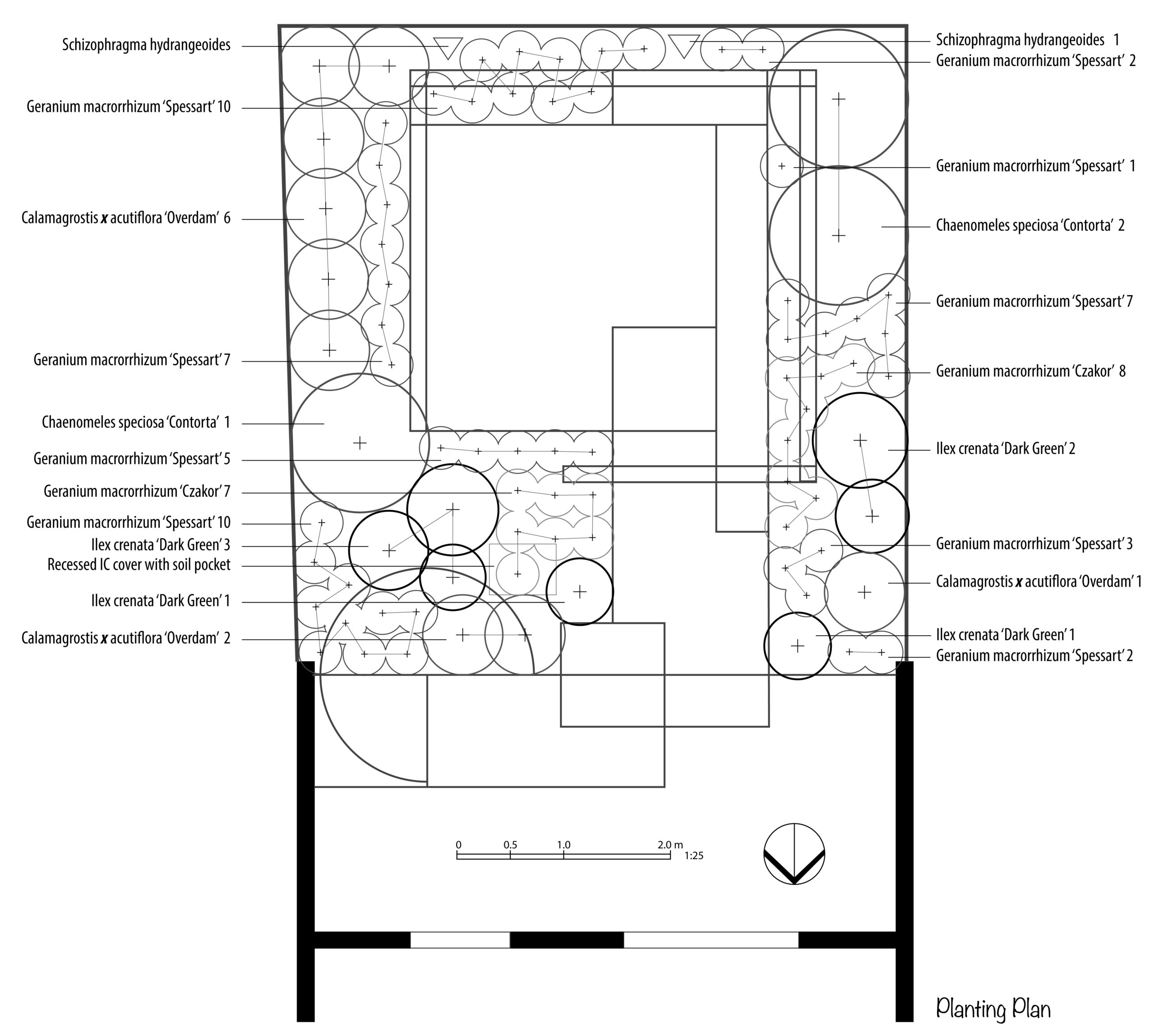 Planting had to be simple and attractive throughout the most of the year, easy to maintain, and robust to cope with summer heat, which is always more pronounced in urban locations.
read more
Ornamental variegated variety of grass Calamagrostis acutiflora 'Overdam' with tall vertical seed heads, which grow in mid-summer and stand throughout the winter, envelopes the back terrace and divides the dining area from the garden with a translucent screen. Evergreen domes of Ilex crenata and rough forms of ornamental quince Chaenomeles speciosa var. contorta provide the necessary round-year structure. Late-winter flowers of Chaenomeles are followed by spring bulbs when the grasses are cut back, and then in the summer by flowering geranium, which is very loved by bees. Soft pale flowers of climbing hydrangea at the back of the garden enliven the shady wall and help keeping attention inside the garden.